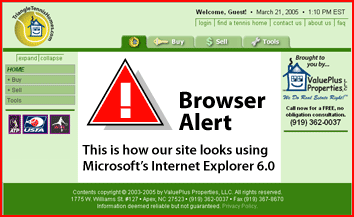 It appears your browser is not Microsoft's Internet Explorer 6.0 (aka MSIE). Our site is unlikely to look or function as intended using any other browser. MSIE is available from Microsoft as a free download from their site.
This is the only browser compatibility warning you'll receive during this visit to our web site. Each visit is considered to end when you close all of your browser's windows or after 15 minutes of inactivity.
---



Buy Overview

December 10, 2023 - 8:50 AM EST

Call now for a FREE, no

obligation consultation.

(919) 362-0037
Buy Overview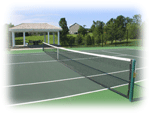 You love tennis. You know it. The mere sight of that signature green or rust color court with crisp white lines makes you feel great. Just picture yourself on that court...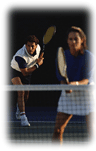 Now that you're ready to have that court nearby, better call ValuePlus Properties! Sure, we're real estate brokers, but more importantly, we're lifetime tennis enthusiasts to the core. We know the region's tennis homes, clubs, courts, and neighborhoods as only tennis enthusiasts can.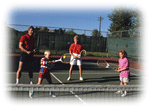 Granted, most folks won't buy a home just because it has great access to tennis amenities, no matter how tempting it may be. That's why our professional agents have the other significant details aced as well, like choosing a neighborhood, thinking about future resale value, and considering the schools.
As our client, you'll receive:
World-class guidance and service to find your dream property quickly, while meeting your requirements and budget.
Personalized information and coaching at every step:

The easy to follow processes and frequent status updates of our Dynamic Buying™ system keep you in the driver's seat and on track.
Explanation of all the standard real estate forms involved so you're comfortable with what you'll sign.
Personal web page to easily track (and share) your buying project.

Catalog of homes you've physically inspected to keep them fresh in your mind.
Project plan of important milestones, tasks, and dates (completed and planned).

ValuePlus Neighborhood Tracker™ subscription, to keep you up-to-date with everything real estate in one neighborhood.

Help finding the best financing for you, from zero down to jumbos.
Powerful Market Intelligence to guide offer and negotiating strategy:

ValuePlus Property Monitor™ service that immediately notifies you via e-mail of new or changed listings in your target set.

Detailed analysis of your finalist properties to guide your offer:

Due diligence of material facts
Competitive Market Assessment

Benefit of our unique approach to real estate.
Don't Delay, Call Today!
Contact us today to get the Grand Slam of ValuePlus Properties' service in your court.
---
---