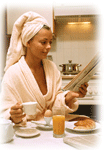 Whether it's one of our professionally managed Featured Rentals or one of the other 1,311 TMLS listed rentals throughout Apex, Cary, Durham, Fuquay Varina, Garner, Holly Springs, Morrisville, Research Triangle Park (RTP) and the greater Raleigh NC metropolitan area, you're sure to find one that's just right.
Renting makes sense for many situations, such as:
A desire to take an area for a test drive before committing to ownership.
A temporary duty assignment of limited duration in a new area.
Seeking a fixed duration change in school assignments that're determined by location.
A desire or need to have all maintenance and repairs handled for you, requiring none of your time or effort.
To devote your primary financial resources to purposes other than home ownership, like starting a business.
Whatever your needs, we can help you find an appropriate rental home in the Triangle area. Just contact us with your rental requirements and we'll be happy to help!
Property Management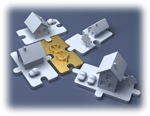 Solve your profit puzzle today. Your peace of mind and continuing profits are our passion. We protect your assets and boost your bottom line with comprehensive operating procedures and our strategic real estate management framework.
Rent Now, Sell Later
Whether you're executing a savvy investment strategy, or accommodating slumping resales with slow to no appreciation, renting a home to produce income can be a great financial move. To help you qualify for a new loan, many lenders will count 75% of your rental income with a 1+ year lease. Landlords also have access to fantastic tax advantages, including deductions for mortgage interest, depreciation, and other operating expenses.
Manage Without Tenants
Have a vacant property but don't want anyone living in it? Join our other worry-free owners as a Property MonitorSM client. You'll benefit from our professional management routines for property review, maintenance, and reporting without any of the issues associated with income producing properties and tenants.