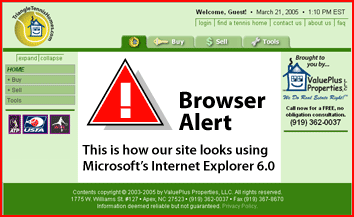 It appears your browser is not Microsoft's Internet Explorer 6.0 (aka MSIE). Our site is unlikely to look or function as intended using any other browser. MSIE is available from Microsoft as a free download from their site.
This is the only browser compatibility warning you'll receive during this visit to our web site. Each visit is considered to end when you close all of your browser's windows or after 15 minutes of inactivity.
---



Welcome to Triangle Tennis Homes

December 10, 2023 - 9:13 AM EST

Call now for a FREE, no

obligation consultation.

(919) 362-0037
Welcome to Triangle Tennis Homes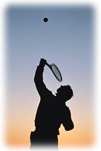 You love tennis. So do we. You're interested in real estate. So are we. At ValuePlus Properties, LLC we're as passionate about real estate as we are about tennis. Now we've combined those passions to bring you TriangleTennisHomes.com, the world's first online real estate resource for tennis enthusiasts.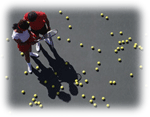 As experienced brokers and Realtors©, we deliver complete, world-class real estate services throughout the greater Triangle region. As tennis enthusiasts, we know the requirements and special value of homes fit for tennis living. As caring, dedicated advisors and guides, we empower you with analytical tools and an information-rich approach to maximizing your value and enjoyment from real estate.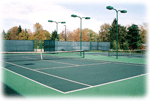 Please enjoy our preview and tell all your friends about us. We're developing additional online versions of select services we currently provide our clients through more traditional channels, so be sure to check back from time to time to see what's new.
Your real estate needs are special. Don't you deserve a special real estate team on your side? Thank you for visiting, and please be sure to contact us today!
---