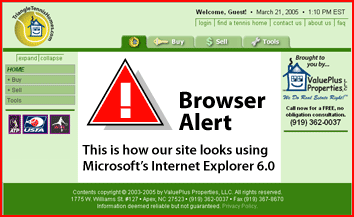 It appears your browser is not Microsoft's Internet Explorer 6.0 (aka MSIE). Our site is unlikely to look or function as intended using any other browser. MSIE is available from Microsoft as a free download from their site.
This is the only browser compatibility warning you'll receive during this visit to our web site. Each visit is considered to end when you close all of your browser's windows or after 15 minutes of inactivity.
---



Sell Overview

December 10, 2023 - 10:22 AM EST

Call now for a FREE, no

obligation consultation.

(919) 362-0037
Sell Overview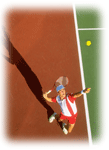 Is your home in a tennis community? Are you one of the Triangle's lucky hundred-few with a private tennis court? Even if you're not a tennis enthusiast yourself, you have a unique asset. Tennis homes can sell for more to tennis enthusiasts because of the extra value (value in use) they assign to amenities supporting the tennis lifestyle.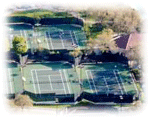 Selling tennis homes is a ValuePlus Properties specialty. As lifetime tennis enthusiasts we know what's important to tennis home buyers and we know how to find them. Our knowledge of the region's tennis playing community and amenities, combined with our exclusive market intelligence and Dynamic Selling™ system, will help you ace your next real estate sale.
As our client, you'll receive:
World-class guidance and service to set and achieve your goals.
Personalized information and coaching at every step:

The easy to follow processes and frequent status updates of our Dynamic Selling™ system keep you in the driver's seat and on course.
Explanation of all the standard real estate forms involved so you're comfortable with what you'll sign.
Personal web page to easily track your selling project.

Project plan of important milestones, tasks, and dates (completed and planned).
Showing log and feedback.

ValuePlus Neighborhood Tracker™ subscription, to keep you up-to-date with everything real estate in one neighborhood.

Powerful Market Intelligence to guide selling strategy:
Projected Net Proceeds Analysis
Customized marketing program design and execution:

Your marketing strategy, forged with our 4-P's of property marketing and implemented in our Dynamic Selling™ system, helps identify, engage, and secure the best possible pool of potential buyers for your property.
ROI based home staging and improvement strategy.
Strategically driven, we apply appropriate elements of our marketing toolbox to make those offers appear.
---
---