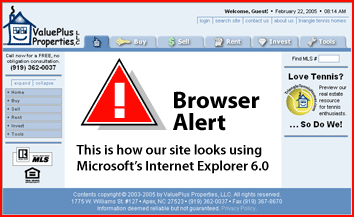 It appears your browser is not Microsoft's Internet Explorer (6.0, 7.0, or 8.0) (aka MSIE). Our site is unlikely to look or function as intended using any other browser. MSIE is available from Microsoft as a free download from their site.
This is the only browser compatibility warning you'll receive during this visit to our web site. Each visit is considered to end when you close all of your browser's windows or after 15 minutes of inactivity.
---



4. Do Your Search

January 20, 2020 - 10:09 AM EST

Call now for a FREE, no

obligation consultation.

(919) 362-0037
4. Do Your Search
Now that you've got your team in place, your finances lined up, and your head filled with smarts, let the search begin! The basic process is simple:
Use your objectives and MSO's to identify prospect properties.
Evaluate prospects through successive levels of scrutiny, advancing the best to higher levels while sidelining the mediocre.

| Level | Description | Avg # of Prospects |
| --- | --- | --- |
| Remote Sensing | Pre-qualify candidate properties from the comfort of your computer. | 100 |
| Drive-By | Experience the neighborhood and surrounding area from the comfort of your vehicle. | 40 |
| Showing | Kick the tires in person. The original form of reality. | 20 |
| Repeat Showing | This one's getting serious, you met it once, time to get to know it. | 3 |
| Due Diligence | You're really smitten. Your team will help you investigate the property and its surroundings in greater detail, from several perspectives. | 2 |
| Make an Offer | You know what you want, you know what it's worth, let's go get it! | 1 |

Add detailed prospect findings to personal databank.
Use new knowledge to refine MSO priorities.
Repeat until an offer is made and accepted.
As always, the devil's in the details, but our team is here to guide you at every turn and help you organize your all important personal databank. All important? Yes. The fundamental purpose of the search process is to elevate your market awareness, your innate feel for the value and utility a prospect property offers, to the point that you can recognize "The One" the moment you experience it.
---
---