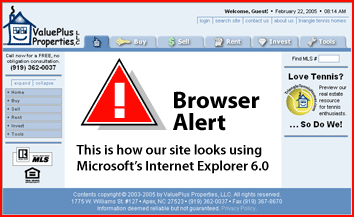 It appears your browser is not Microsoft's Internet Explorer (6.0, 7.0, or 8.0) (aka MSIE). Our site is unlikely to look or function as intended using any other browser. MSIE is available from Microsoft as a free download from their site.
This is the only browser compatibility warning you'll receive during this visit to our web site. Each visit is considered to end when you close all of your browser's windows or after 15 minutes of inactivity.
---

Windcrest
Holly Springs, NC

Call now for a FREE, no

obligation consultation.

(919) 362-0037
Featured Neighborhood
Windcrest • Holly Springs, NC
---
Windcrest Narrative
Windcrest offers a wide variety of single family homes, and features sidewalks, a pond, swimming pool, and playground. It's located in central Holly Springs with easy access to Hwy 55 and Hwy 1. This community is within commuting distance of RTP, the Raleigh-Durham International airport, Chapel Hill, Durham and downtown Raleigh. The proposed extension of I-540 is planned to run just North of Sunset Lake Road.

Plentiful shopping and dining is a few minutes Southeast at Holly Springs Crossing (Holly Springs Road and Bass Lake Road), about 10 minutes North at Beaver Creek shopping center in Apex (Hwy 55 and Hwy 64), or about the same drive to the South in downtown Fuquay-Varina (55/401/42 and Sunset Lake Road).

Beautiful Harris Lake County Park, covering 680 acres, is located just West off of New Hill Holleman Road. And Lake Jordan (14,000 acres) is located just a few miles Northwest near Hwy 64 and Hwy 751. Lake Jordan is a boater's and fisher's paradise!
---
Windcrest Statistics

---
Windcrest Demographics

Holly Springs, NC Demographics

---