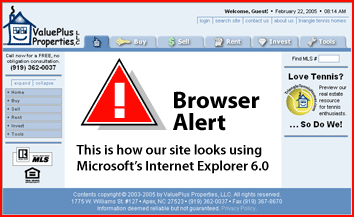 It appears your browser is not Microsoft's Internet Explorer (6.0, 7.0, or 8.0) (aka MSIE). Our site is unlikely to look or function as intended using any other browser. MSIE is available from Microsoft as a free download from their site.
This is the only browser compatibility warning you'll receive during this visit to our web site. Each visit is considered to end when you close all of your browser's windows or after 15 minutes of inactivity.
---

Scotts Mill
Apex, NC

Call now for a FREE, no

obligation consultation.

(919) 362-0037
Featured Neighborhood
Scotts Mill • Apex, NC
---
Scotts Mill Narrative
Scotts Mill is located in Western Apex between Olive Chapel Road and Apex Barbeque Road with easy access to Hwy 55 and Hwy 1. This community is within easy commute to RTP, the Raleigh-Durham International airport, Chapel Hill, Durham and downtown Raleigh. I-540 is planned to run to the West of Scotts Mill and just East of Kelly Road.

Great shopping is just minutes away at Beaver Creek shopping center (Hwy 55 and Hwy 64) , Cary Towne Center (just North off of Kildaire Farm Road) and Crossroads (Hwy 64 and I-40). Beautiful Lake Jordan is just 10 minutes NW off of Hwy 751. This 14,000 acre lake is a boater's and fisherman's paradise, and it's recreation areas sport sandy beaches, picnic grounds, and play areas!

Scotts Mill offers a wide variety of home styles including detached single family homes and townhouses (Bungalow Park section).

The neighborhood amenities include an Olympic size swimming pool, club house, two tennis courts, basketball court, and playground. There is also an organized swim team for children where they get a chance to compete with other area swim teams. Scotts Mill has it all!
---
Scotts Mill Statistics

---
Scotts Mill Demographics

Apex, NC Demographics

---