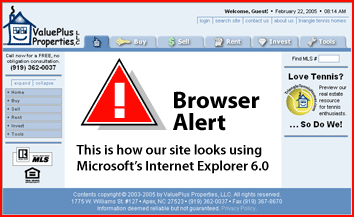 It appears your browser is not Microsoft's Internet Explorer (6.0, 7.0, or 8.0) (aka MSIE). Our site is unlikely to look or function as intended using any other browser. MSIE is available from Microsoft as a free download from their site.
This is the only browser compatibility warning you'll receive during this visit to our web site. Each visit is considered to end when you close all of your browser's windows or after 15 minutes of inactivity.
---



Terminology: O

January 19, 2020 - 5:07 PM EST

Call now for a FREE, no

obligation consultation.

(919) 362-0037
Terminology: O
Open listing

A contract under which the broker is commissioned to find a buyer before the property is sold by the seller or another competing broker.

Option

The agreement to keep an offer to purchase or lease open for a specific period of time.

Option listing

An agreement by which the broker advertising the property has the right to purchase the listed property himself.

Origination fee

A fee paid to the lender for processing a loan application.

Owner financing

A property transaction for which the seller provides all or part of the financing to the buyer.

Owner's Title Insurance

A policy insuring the full purchase price of a piece of property for the buyer, usually including adjustments for inflation each year up to a maximum of 150% of the original policy amount, the premium for which is payable at the time of closing.
---