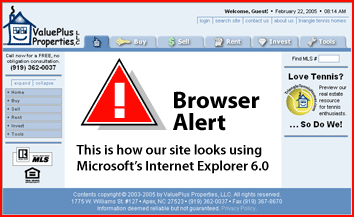 It appears your browser is not Microsoft's Internet Explorer (6.0, 7.0, or 8.0) (aka MSIE). Our site is unlikely to look or function as intended using any other browser. MSIE is available from Microsoft as a free download from their site.
This is the only browser compatibility warning you'll receive during this visit to our web site. Each visit is considered to end when you close all of your browser's windows or after 15 minutes of inactivity.
---



Terminology: Y

January 20, 2020 - 11:19 AM EST

Call now for a FREE, no

obligation consultation.

(919) 362-0037
Terminology: Y
Yield

The profit extracted from an investment. Yield also refers to the rate-of-return of an investment, when expressed as a percentage of the amount invested.

Yield Capitalization

Also known as "discounted cash flow analysis" or "annuity capitalization", it describes the method of estimating the present value of a property by taking into account its future benefits using an appropriate rate of return.
---