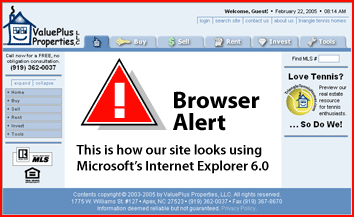 It appears your browser is not Microsoft's Internet Explorer (6.0, 7.0, or 8.0) (aka MSIE). Our site is unlikely to look or function as intended using any other browser. MSIE is available from Microsoft as a free download from their site.
This is the only browser compatibility warning you'll receive during this visit to our web site. Each visit is considered to end when you close all of your browser's windows or after 15 minutes of inactivity.
---



Terminology: W

February 22, 2020 - 6:54 PM EST

Call now for a FREE, no

obligation consultation.

(919) 362-0037
Terminology: W
Wainscoting

Decorative wood paneling, tongue-and-groove boards or similar decorative material installed between a baseboard and a chair rail (usually covering 3-4 feet of the interior wall). It may be painted or varnished.

Waiver

Refers to a party's relinquishment, renunciation or surrender of some claim, right, or privilege.

Warranty Deed

A document conveying ownership of a property where the grantor guarantees that his or her title is clear and free of all encumbrances.

Walk-through

A buyer's final inspection of the property to ensure that the conditions agreed-upon in the offer to purchase and contract agreement have been satisfied.

Wetlands

Areas that are inundated or saturated by surface or groundwater often enough to support aquatic life/vegetation that thrives in such water saturated soil conditions such as swamps, bogs, marshes, etc.

Will

A written document that when properly executed, signed, and witnessed, describes the disposition of a person's property/estate after his or her death.

Window Light

Refers to an individual pane of glass.

Window Seat

A bench built under an interior window, such as the nook of a window, window recess, or in a deep bay window. It sometimes has an upholstered seat with arms.

Window Well

A dugout area just outside a window that is below or partially below grade level. It can be used to as a fire escape and it also allows light to come in while keeping the earth away from the opening. This term also refers to a curved, corrugated steel insert used to isolate such windows from moisture.

Wood-Destroying Insect Inspection Report

Also known as "termite inspection report" or "pest inspection report", this report is compiled by a licensed pest control inspector indicating that an improved property has been inspected for visible evidence of infestation and structural damage by wood-destroying insects (including termites) and the conditions conducive to such pests.

Wraparound Loan/Mortgage

A secondary, junior mortgage to a buyer where the face amount of the note is the new financing amount requested by the seller plus the principal balance due on the seller's first mortgage. Thus, the second mortgage is said to "wrap around" the first mortgage. Payments on both mortgage notes are made to the lender who holds the wraparound loan.
---