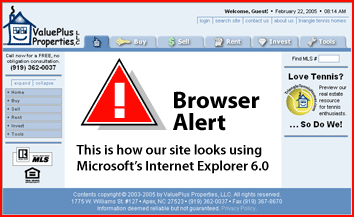 It appears your browser is not Microsoft's Internet Explorer (6.0, 7.0, or 8.0) (aka MSIE). Our site is unlikely to look or function as intended using any other browser. MSIE is available from Microsoft as a free download from their site.
This is the only browser compatibility warning you'll receive during this visit to our web site. Each visit is considered to end when you close all of your browser's windows or after 15 minutes of inactivity.
---



Terminology: Q

February 22, 2020 - 5:58 PM EST

Call now for a FREE, no

obligation consultation.

(919) 362-0037
Terminology: Q
Partial payment

A payment that is less than the agreed upon monthly payment on a loan.

Qualifying ratios

Lenders compute qualifying ratios to determine how much a potential buyer can borrow.

Queen Anne style

A Victorian-era style that originated in San Francisco.

Quiet Enjoyment

Guarantees the tenant't right to use the premises without interference from the landlord.

Quiet title

A court action to remove a claims or objections of other parties on a title.

Quitclaim deed

A deed that releases whatever interest or title a grantor may hold in a property, without claiming any obligations or warranties.
---