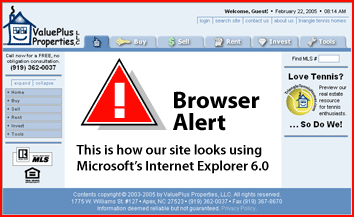 It appears your browser is not Microsoft's Internet Explorer (6.0, 7.0, or 8.0) (aka MSIE). Our site is unlikely to look or function as intended using any other browser. MSIE is available from Microsoft as a free download from their site.
This is the only browser compatibility warning you'll receive during this visit to our web site. Each visit is considered to end when you close all of your browser's windows or after 15 minutes of inactivity.
---



Terminology: M

January 20, 2020 - 9:57 AM EST

Call now for a FREE, no

obligation consultation.

(919) 362-0037
Terminology: M
Majority

The age at which an individual is legally entitled to handle his or her own affairs.

Margin

The amount added to the index on an adjustable-rate mortgage (ARM) that establishes the adjusted interest rate at a given time.

Market value, or Fair market value

The most likely price that a piece of property or home can realistically be sold for, and is dependent on the selling price of similar real estate in the area.

Marketable title

A clear, unencumbered title, reasonably acceptable without the threat of the risk of litigation.

Maturity

The date on which the principal balance of a loan, bond, or other financial commitment is due and payable.

Mechanic's lien

A lien created by statute to allow unpaid contractors, laborers or suppliers who have performed work on or furnished materials for the construction of a building to recover the value of their work.

Metes and Bounds

Means for describing property by a set of directions and distances, when there isn't identification based on a surveyed lot number.

Minor

An individual below the age at which he or she is legally entitled to handle his or her own affairs.

Monument of Survey

le indications made on natural or man-made objects that indicate the boundaries of a survey.

Mortgage

A legal document that pledges a property to the lender as security for the payment of a loan or debt.

Mortgage broker

An individual or company that acts as an agent between borrowers and lenders for the purpose of arranging and negotiating mortgage contracts; who is paid a fee for such service.

Mortgage insurance

A contract that guarantees the lender against loss caused by a mortgagor's default on a government or conventional mortgage; such insurance can be issued by a private company or by a government agency, and covers either only a percentage, or the total, of the mortgage loan.

Mortgagee

The lender in a mortgage transaction.

Mortgagor

The borrower in a mortgage transaction.

Multiple-listing service (MLS)

An organization of brokers who share their listing agreements with one another in order to find buyers for their properties more effectively than they could individually.

Mullion

The wooden strips that separate the window panes of a window.
---