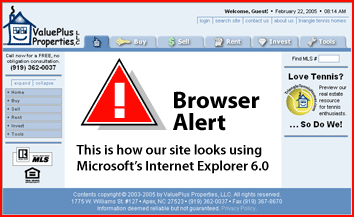 It appears your browser is not Microsoft's Internet Explorer (6.0, 7.0, or 8.0) (aka MSIE). Our site is unlikely to look or function as intended using any other browser. MSIE is available from Microsoft as a free download from their site.
This is the only browser compatibility warning you'll receive during this visit to our web site. Each visit is considered to end when you close all of your browser's windows or after 15 minutes of inactivity.
---



Critical Issues

January 19, 2020 - 6:24 PM EST

Call now for a FREE, no

obligation consultation.

(919) 362-0037
Critical Issues
Some problems are so prevalent they're notorious. While you and your inspector(s) should be on the watch for every existing or potential problem, this collection of products and hazards are from the Most Wanted List.
---
Siding Material
The types of exterior siding listed below might have been used in many of the homes in our area. There have been class action lawsuits filed because of problems with each of these products. Click on the links below to find our more on each particular class action lawsuit.
Roofing Material
Masonite Woodruf roofing is a product composed of pressure bonded fibers designed to emulate the look of natural cedar roofing that has been found to have problems. Learn more about the Masonite Woodruf Roofing Class Action Settlement.
Synthetic Stucco
If a home was built using synthetic stucco for the exterior insulation, there is a possibility of moisture damage to the exterior as well as structural members. For more information, check out the NC Synthetic Stucco Class Action lawsuits website.
Mold
Radon - Current EPA Guidelines
Polybutylene Plumbing
Aboveground Storage Tanks
For information on above ground storage tanks, visit the NC Dept. of Environmental and Natural Resources (NCDENR), division of Waste Management website.
Underground Heating Oil Tanks
Underground heating oil tanks have been the source of many environmental problems because when they leak, they can contaminate the surrounding soil and even the ground water. Underground tanks may start leaking as a result of rust build-up inside the tank. Also, buried underground electric utility lines can cause an electrical condition that result in tank holes.
These underground heating oil tanks can pose many problems for both buyers and sellers. Therefore, it's important to have expert buyer/seller representation when this situation arises.
For more information on underground storage tanks, visit the NC Dept. of Environmental and Natural Resources (NCDENR), division of Waste Management website.
---