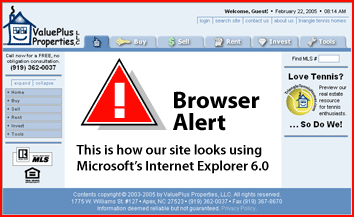 It appears your browser is not Microsoft's Internet Explorer (6.0, 7.0, or 8.0) (aka MSIE). Our site is unlikely to look or function as intended using any other browser. MSIE is available from Microsoft as a free download from their site.
This is the only browser compatibility warning you'll receive during this visit to our web site. Each visit is considered to end when you close all of your browser's windows or after 15 minutes of inactivity.
---



Inspections: Seller's View

January 19, 2020 - 5:16 PM EST

Call now for a FREE, no

obligation consultation.

(919) 362-0037
Inspections: Seller's View
Property inspections are a critical issue for practically every real estate transaction. Offers to purchase are rarely made without an inspection contingency. Buyers want assurance they aren't acquiring hidden liabilities, so they'll typically employ one or more third-parties to kick the tires before completing the transaction. Hidden defects can scuttle a contract and put you months behind in your selling project.
Smart sellers are opting to have their property inspected early with our sale optimizing Pre-Listing Power Program. Since buyers are going to conduct an inspection anyway, why not get there first? Then you can use the advance notice to put your product in fast-selling, top-dollar generating condition before presenting it to the market.
North Carolina home inspectors who receive compensation for their work must be licensed by the NC Home Inspector Licensure Board. This helps maintain higher standards of professional performance than in states without licensure requirements. Your real estate professional can help you understand the various type of inspectors, certifications, levels, and professional organizations to help you find the right inspector(s) for your needs.
Helpful Inspection Links
---