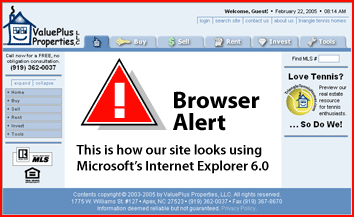 It appears your browser is not Microsoft's Internet Explorer (6.0, 7.0, or 8.0) (aka MSIE). Our site is unlikely to look or function as intended using any other browser. MSIE is available from Microsoft as a free download from their site.
This is the only browser compatibility warning you'll receive during this visit to our web site. Each visit is considered to end when you close all of your browser's windows or after 15 minutes of inactivity.
---



Welcome Home

February 22, 2020 - 7:50 PM EST

Call now for a FREE, no

obligation consultation.

(919) 362-0037
Welcome Home!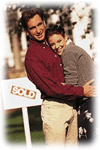 When you need real estate help, you need a guide, an advisor, a trusted partner. Professionals who know how to engineer your real estate success with fast, friendly service you can count on any time, any place. You've come to the right place.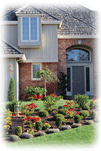 At ValuePlus Properties, we're devoted to empowering clients with knowledge, dynamic buying and selling systems, powerful analytical tools, and timely market intelligence. Our unique information-rich approach helps maximize the value and enjoyment you derive from real estate.


Please explore our site. We hope you find our information & tools useful, and enjoy the samples of our valuable, exclusive services for our clients. We strive to deliver world-class service, and our web site is no exception. We think you'll see there's something different going on at ValuePlus Properties, something your next real estate project shouldn't be without!
---